Debut album 'Three on the Tree' out now wherever you listen to music! Follow the icons below.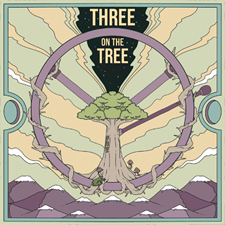 Here at Three on the Tree, we make music that your grandparents wag their finger to, music that your parents make love to, and music that your kids stomp their feet to. We're an Americana/Folk band with members hailing from Salt Lake City, Charlotte, Asheville, and Sydney Australia. Yes, you heard us right. Grab a Foster's and gather 'round the campfire to hang with the Tree.
We recently released our debut self-titled album and celebrated by playing 8 shows around Salt Lake City and the local ski resorts. Previous to that, we played 13 shows around Appalachia and recorded our debut album!
Hog Wallow - Salt Lake City - 10/6
Snowbird resort Oktoberfest - 10/7
Snowbasin resort Oktoberfest - 10/8
Lake Effect - Salt Lake City - 10/12
The Spur - Park City - 10/13
The Cabin - Park City - 10/14
We're fixin' up an response and will get back with ya in a jiffy
Stem Ciders - Denver, CO
Goosetown Tavern - Denver, CO
Eagle River Brewing - Eagle, CO
Zuni St Brewing - Denver, CO
So Many Roads Brewing - Denver, CO
Piper Down Pub - Salt Lake City, UT
Hog Wallow - Salt Lake City, UT
Lake Effect - Salt Lake City, UT
Goldminer's Daughter - Alta Ski Resort, UT
Goldminer's Daughter Saloon - Alta Ski Resort, UT
Snowbird Plazapalooza - Snowbird Ski Resort, UT
Slackwater SLC - Salt Lake City, UT
Tyler's Pub at the Pier - Clemson, SC
Common Market - Charlotte, NC
Booneshine - Boone, NC
Appalachian Mountain Brewery - Boone, NC
Tapp - Boone, NC
Hattie's Tap & Tavern - Charlotte, NC
Speckled Trout - Blowing Rock, NC
Upcountry Brewing - Asheville, NC
Petty Thieves Brewing - Charlotte, NC
Innovation Station - Dillsboro, NC
Ugly Dog Pub - Cashiers, NC
Fannin Brewing Company - Blue Ridge, GA
Goldminer's Daughter - Alta Ski Resort, UT
Thirsty Squirrel - Solitude Ski Resort, UT
Spitfire BBQ - Moab, UT
Kamikazes - Ogden, UT
Roadhouse Saloon - Idaho Falls, ID
Thirsty Street - Billings, MT
Eleanor's Again - Jackson, WY
The Bird - Jackson, WY
Boomerangs - Salt Lake City, UT
Common Market - South End, NC
Steady Hand Brewery - Atlanta, GA
Six Bridges Brewing - Johns Creek, GA